Porsche 718 - Tyre Runners Review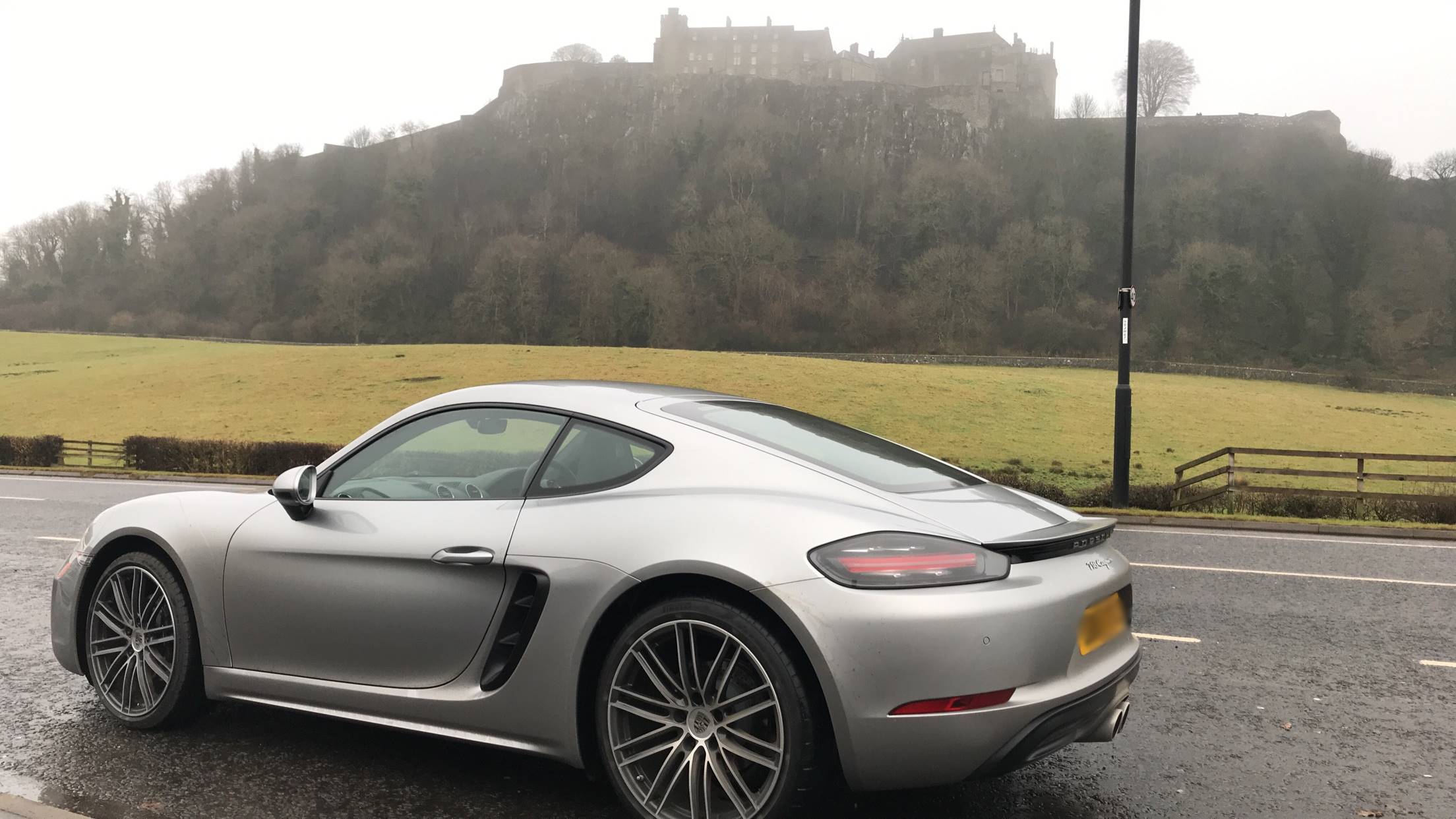 Porsche 718 Review
On a dreich January day in Scotland, okay that sounds like the start of a fairy-tale but this it is not, Bryan, one of our founders had the opportunity to drive a Porsche 718 Cayman for the day. Being a car lover, this is his personal review of the 2018 car...
Well I had my own car in for a service at the dealership and the courtesy car they gave me was the 718 in silver with just under 300 miles on the clock. The car was pretty much base spec with very few options added, making it a perfect review car.
The test track / route
I had already predetermined a good "drivers" scenic route around some of Scotland's breath-taking landscape, unfortunately the stereotypically good Scottish weather had fog, drizzly rain and temperatures just a few degrees above freezing in mind instead. That did not spoil the good mix of motorway and A and B class roads to give the car a full run out!
*****************MAP Coming soon************************
Ride and handling
Okay, so I have to admit, I am a fan of Porsche, and the VW Group in general, but it is hard to deny that Porsche create some of the best handling cars in the world. But how does this entry level model in the Porsche line-up hold up? Let's get it out there from the beginning, the 718 certainly lives up to that great handling reputation.
The car is small but perfectly planted on the road, especially with the optional 20" wheels on this version, just the same as you get on its big 911 brother. The confidence the car gives you, even on tyres with less than 300 miles on the clock is impressive. The car has more capability than I have ability, or certainly nerve to push any harder on public roads in a courtesy car! Going into the medium and fast bends on those A roads at 60 MPH, the car almost entices you not to press that brake pedal and just "fling it in". It is balanced, poised for what is round that next corner with little to no body roll at all. This is a big boy's go-kart on steroids!
Anyone that has driven the roads I mentioned above will know they are in a shocking condition, pot holes everywhere, loose gravel littering the centre and side of the roads and enough stones to make any driver nervous. Although the ride is stiff and sporty it was far from uncomfortable. I can genuinely say that after 85 miles and 3 hours on this pothole ridden route, my back was still in the same condition as when I jumped in at the dealership earlier that day. This car had none of Porsche's usual technicolour of suspension options, and to be honest I don't think it needed them.
Engine & Transmission
The engine, where do I start? This is Porsche's smallest engine in the range, a 2.0 litre 300 HP Petrol that comes with the standard Porsche Doppelkupplung (PDK for us that don't speak German) semi-automatic transmission. The PDK transmission is something to experience, until you have driven one it is hard to describe just how good the transmission is. Every gear change is smoother than a baby's bottom, no jerk, no bravado, just planted and assured. In fact, most of the time you will never know you have changed gear, the only real way you notice is when the harmonic note of the Sports Tailpipe changes and the satisfying rumble from the engine behind your back subtly alters.
Despite all that, this 2.0 litre has something lacking at the low end, the 0-40MPH range. It just doesn't feel gutsy enough from a standing start. Don't get me wrong, when really putting metal to the floor, tyre spin on the rear end was possible; and this was certainly brisk enough to keep a rather nice Audi S3 with a near identical engine in the 30-60MPH range going backwards in my mirror. The cars lightness compared to its S3 cousin did show here. Is it due to the fact I'm used to driving more torquey cars? Perhaps, but I was certainly left feeling "give me more" several times.
One place this engine does stand out though, is in awakening the senses. This car did have the optional Sports tailpipes, and oh boy do they sound good when pushing hard. Those, coupled with the satisfying rumble coming from behind you, really never gets intrusive or mundane – they are a constant reminder you are in a true rear engine sports cars.
What makes me sad though is this raw emotive draw will soon become a thing of the past. Electric vehicles are poised to take over in the coming decade, and sure, many electrics especially the Tesla line-up are blisteringly quick, but there is never that "awakening", that "I'm alive" moment when driving an electric. This is one thing this car has in bucket loads and although my sensible head says electric is the future, I'll miss the sound and the vibrating rumble when accelerating that adds to the theatre of a drive. There is enough theatre in this engine to make it sound and feel alive but it feels a little like going to a top west end show when you're in the "cheap" seats and the night you go the actors are coming down with something – there is a flare or two missing. If you knew that before the show would it stop you going? Hell no, you are still witness to one of the best shows in town.   
Interior
As this was a base spec car there was nothing fancy on the interior, I can only describe it as "so German". Everything is as expected, well finished and far above the quality levels of its competition. This is the first time I have seen Porsche's new dash layout, that iconic V shaped centre control console is still there but the buttons have been moved around slightly. Porsche's of late have had annoying buttons located extremely close to each other, for example the heated passenger seat button right above the SPORT button. I can't tell you how many times I've reached for sport to do an overtake and the passenger got a warm backside instead, so I am glad they have sorted the ergonomics.
However, one rather annoying feature in the 718 that is not apparent in other cars in the Porsche line-up is the distinct lack of storage pockets, and what I can only describe as the weird cup holders. There are no cup holders in the centre console or door pockets, instead Porsche have come up with a less than adequate contraption that pops out from the dashboard in front of the passenger seat. It's like an overreaching arm that stretches toward the driver. More annoying is that you're going to struggle to fit the average can of Cola in there, far less a large Starbucks or water bottle.
Yes, I know all of the above are #FirstWorldProblems but you kind of expect when you are purchasing a premium product that every last detail has been carefully thought through. This really isn't an everyday car, so some of the everyday practicalities can be forgiven, but still!
New infotainment system
Another nice new addition, or the first time I have seen it anyway, is the new touch screen infotainment/satnav system. Touch controls are much more accurate now, and it feels exactly like using an iPad – there is less fumbling and re-pressing when driving. The older systems always leave you with the feeling that you're going to punch your finger straight through them. Colours are also vibrant and the onboard satnav seems vastly improved over those that came just a few years ago.
Fuel consumption
Well I've got to say I was rather impressed. Officially fuel consumption for this 300HP 2.0 Litre petrol is 31.4 mpg urban, 49.6mpg out of town and 40.9 combined. My drive over a mixed set of motorways, fast windy A roads where I was in and out of sport mode and around town in Glasgow was 30.4 MPG averaged out over the 100 miles I did this day. Not bad at all.
Price & car spec
The car I drove was just about as basic as they come with a few pricey options here and there. The only notable extras were the automatic PDK gearbox (£2k), ParkAssist (£623), seat heating (£294), Sports tailpipes (£380) and the eye watering £3k 20-inch 911 turbo wheels, oh which by the way will be around £1k for a set of new tyres which you can expect to renew every 10-13k miles. Did we say that we compare tyre prices?
Check the latest Tyre Prices for this car over here for the Rear Tyre and over here for the front tyre
All this means the retail price of this car would have been around £50,000. £7k of options sounds like a lot, but with a Porsche this really is just the start.  Check out the Porsche car configurator over here for the vehicle spec I drove, play with some of the options and you will quickly see the minute detail you can get into and the cost associated with doing so – air vents in leather anyone?
Conclusion
It is without a doubt this is a great handling, thrill inducing sports car with a build quality that is absolutely second to none. Everything feels premium in a Porsche, from the key holder to the tinniest stud on the carpet holders. I absolutely loved driving this car for the day. However, this really is not an everyday car; the ride is too hard and the interior space not practical enough for that, but would I buy it as a weekend racer?  If I could afford it absolutely, but the "Smart" money would be putting up with a less premium interior, saving yourself around £25k, and buying a top spec Mazda MX5 with all the options ticked. You get the same nimble go kart like handling and thrill, all be it without that marvel of German engineering that is the PDK automatic gearbox. That would be smart but buying a car like this is just about as emotive as it comes. If you are thinking about it, leave the smart head at home – if I had the cash I would buy the Porsche 718 time and time again, go for a test drive yourself and you will see what I mean. I dare you not to have the credit card out ready for the sales guy/girl to swipe the minute you get back.